Re: WWE: The Draft Changes Everything
Hey everyone! Here is SmackDown, I hope you read and comment and any comments/reviews will be returned.
WWE Friday Night SmackDown
April 17th 2009
Taped from Knoxville, Tennessee
"Call Disconnected"
"If You Rock Like Me"
sounds over the PA system and pyrotechnics fly off on the stage. The camera pans the sell-out crowd in Knoxville, Tennessee taking in the signs all around the arena. The camera then goes to the SmackDown announce table where we are welcomed by commentators Jim Ross and Todd Grisham. They talk about the action scheduled for tonight including the WWE Championship Match between Intercontinental Champion Rey Mysterio and WWE Champion Randy Orton. We are also told that tonight we will see the final four last sixteen matches of the King of the Ring tournament which concludes at Backlash.
"Voices"
hits as Randy Orton opens the show to loud boos, he comes out with the WWE Championship on his shoulder. Orton takes a microphone and tells everyone that what happened last week should be forgotten because Rey Mysterio's victory was a fluke and he will prove that when he punts the Intercontinental Champion in the skull to win the match. Orton says that last week also saw the return of 'The Animal' Batista, he says that back in December he punted Batista in the head and, he assumed, ended his career. He said that the punt was supposed to knock some sense into Batista and teach him that Randy Orton isn't the man to mess with but it must not have worked because Batista keeps coming back for more.
Orton says that it doesn't really concern him that Batista is back because after he beats Rey Mysterio tonight, it doesn't matter if it's Batista or the Intercontinental Champion he has to face because he will retain his WWE Championship at Backlash. Orton says that everyone in the company fears him because one kick to the skull can end a career and he brings up how he ended the career of Manu. He says that one day he will end the career of Batista and make sure that Batista can never get another shot at the WWE Championship.
We continue the show with Carlito and Primo Colon coming out to the ring with Nikki and Brie, the Bella Twins. The Unified Tag Team Champions instruct a podium similar to the one seen on ECW to be brought into the ring. They mention that they originally planned to unveil the titles on Tuesday's ECW taping but a production fault meant that it was pushed back a little. They removed the cloth and unveil title belts which have a few diamonds in them but are mainly plain gold. All four say in unison that the new title belts are cool.
"Crank it Up"
interrupts the Unified Tag Champions as The Big Show comes out for what we are now being told is a King of the Ring Last Sixteen Match. The commentators put over how Vickie has put Show in this tournament to earn a shot at the title rather than giving him a single match to win to get a shot like originally planned. Primo and the Bella Twins leave the ring as Carlito gets ready to take on Big Show.
This match was actually pretty good, at the beginning Big Show smirked and said 'What can you really do to me?' Carlito tried everything in his arsenal and managed to take the Big Show down with two Springboard Elbows but he couldn't get the victory. At one moment in the match Carlito tried the Backstabber on Big Show but to no avail. The finish came when Carlito leaped off of the ropes looking for a springboard clothesline but received a huge Knockout Punch as the Big Show advanced to the next round. Primo came in to check on his brother but was picked up and given a Chokeslam. The Bella Twins were then cowered into the corner as Show advanced on them, he laughed before walking away.
We go backstage where we see Matt Hardy sitting alone backstage, he says that last Tuesday on ECW everyone saw what a loser his brother Jeff Hardy is, he says that he is not a loser and that tonight when he competes in the King of the Ring tournament he will advance to the Quarter Finals of the tournament and go on to win the tournament at Backlash and challenge for the WWE Championship. Hardy says that everyone has saw him for so long as 'Jeff Hardy's brother' and nothing more. He says that Jeff Hardy got lucky at WrestleMania but it doesn't matter what Jeff or anyone else thinks, he knows he is the better Hardy and he knows he is the best wrestler in the company. He says that it is only a matter of time before he eclipses every little accomplishment Jeff Hardy has and that it's only a matter of time until he betters every accomplishment that Jeff Hardy has.
We then go backstage where Jenny Cash is standing again, she says her guests at this time are Batista and Rey Mysterio. They walk in, Batista has his arm around Mysterio showing the bond between the two. Jenny asks Rey just how it feels to have the chance to become the WWE Champion tonight. Rey says that it is huge, he's been World Heavyweight Champion but never the WWE Champion, he says victory would also mean that he would be WWE Champion while holding the Intercontinental Championship and that is unprecedented so he says that it'd be huge to win it tonight.
Cash says that Batista returned last week and has his sights set on Randy Orton, Batista interrupts and tells Cash that he wants revenge on Randy Orton but it doesn't matter if he's WWE Champion or not. He says that once he has destroyed Randy Orton, it doesn't matter who is the WWE Champion, even if it is Rey he will be coming for the title. Rey says he wouldn't have it any other way.
The second contest is a King of the Ring match between Chavo Guerrero and Santino Marella. Santino got a pretty good cheer when he is coming out and by all accounts he seems to be playing a face, on the microphone before the match he said Chavo was nothing more than a 'lackey' and that Santino was going to win the 'King-a the Ring' on 'Smack-a-Down!' The match was relatively short and the crowd weren't too in to it, Santino picked up the victory through a surprise roll-up. Chavo pleaded with the referee afterwards that it was definitely not a three but Santino managed to book a place in the Quarter Final matches next week against the Big Show.
We go backstage where SmackDown Interviewer Jenny Cash is sitting at the make-up chair as the make-up artist applies the make-up to Jenny. They are chatting happily until Dolph Ziggler walks into shot. Ziggler asks if Cash was impressed by his performance on ECW. Cash instructs the make-up artist to stop, she stands up and speaks to Ziggler, she says that he did well. Ziggler asks her if she knows why he did good to which Cash mutters 'because you're the Natural' Ziggler says that is right, he says that Cash better watch the next match because The Natural is going to pick up another victory.
The third match of the evening is Dolph Ziggler going one-on-one with Jimmy Wang Yang. The match is quite good and Jimmy Wang Yang manages a few high-flying moves here and there but the match comes to an end when Ziggler grabs Yang's head at the top turnbuckle, he jumps off and drives Yang's face down into Ziggler's knees. Ziggler picks up the victory.
We go backstage once more and we see SmackDown General Manager Theodore Long. Long says that tonight he has a huge announcement to make concerning the WWE Championship match at Backlash.
We cut to another backstage segment where WWE Women's Champion Melina is stood next to Maria, Maria asks Melina what she thinks of her t-shirt which is from her new clothing line, Melina says that it's a great shirt and that if she put it on sale, she'd buy it. The two divas continue to converse when Michelle McCool walks into shot. Michelle says that she was discussing the Women's Championship situation with Theodore Long and she said that Long told her that at Backlash, Melina will be officially presented with her Miss. WrestleMania crown. Melina smiles, Michelle says that it doesn't matter because sometime in the near future she will get her shot at Melina's Women's Championship, she says that she will be the first person to have held both the Women's and Divas Championship.
Michelle continues that it's only a matter of time until she gets that chance, she then turns and asks Maria why she is even standing there. Maria says cheerily that she was just showing Melina her clothing line, Michelle says that nobody cares about Maria's clothing line and yanks the shirt from her hands. Michelle drops it on the ground and puts her foot on it, she says oops and walks off but Melina shouts 'Hey' and turns Michelle around slamming a hard forearm to Michelle's face, the two divas begin brawling as Maria tries to break it up. Officials eventually break it up as the divas try to get to each other.
The fourth match of the evening was another King of the Ring match this time between Matt Hardy and Jesse. This was a match designed to make Matt Hardy look strong and Hardy did indeed look strong managing to easily defeat the former partner of Fesuts, Jesse. Hardy picked up the victory after a Twist of Fate to the boos of the crowd.
We go backstage once more this time with Josh Matthews. Matthews welcomes the Big Show. Matthews says that earlier tonight Show defeated Carlito in a King of the Ring Match and advances to the Quarter Final to take on Santino Marella, he wants his thoughts on this. Show says that he is the biggest athlete in the world and that even if somebody wanted to try and take him down, they simply couldn't. He says he is the most dominating man on the planet and proved that tonight against one-half of the Unified Tag Team Champions. Big Show says the fact he is facing Santino Marella is actually a privilege because it'll be an easy pass to the next round, he then says that it wouldn't matter who he faced because any opponent is an easy pass to the next round for him.
The final King of the Ring contest was an interbrand affair, it was billed as giving those from other brands the chance to win a shot at the WWE Championship after an agreement from the three General Managers. The randomly drawn participants were ECW's The Great Khali and RAW's Goldust. This match wasn't really the greatest contest in the world and Khali picked up the win with the Tree Slam. Afterwards, Goldust and Khali shook hands.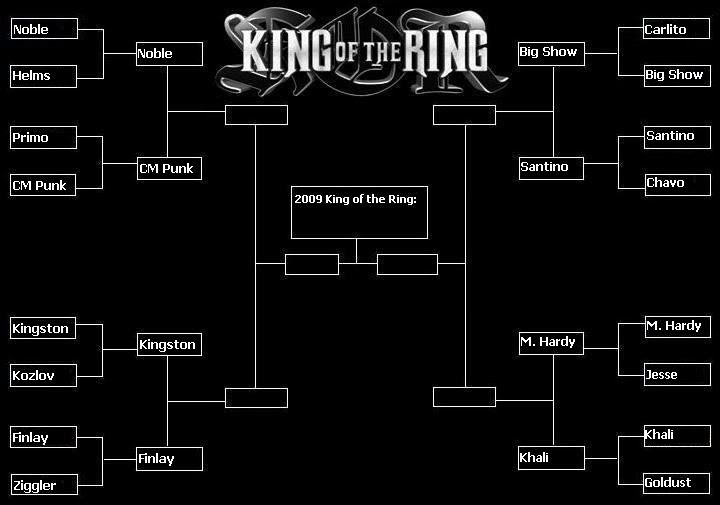 Paul Burchill
is standing backstage with his sister Katie Lea. Burchill says to his sister that everyone seems to be ignoring the talent of both of them, he says that on RAW despite winning on his debut and winning several matches he was never given a fair shot at any gold. He says that on ECW, Theodore Long practically ignored him and that now he is back on SmackDown where he had much success in 2006 and yet he's being ignored by Theodore Long again. He says that he can promise one thing, he will do anything and everything to get noticed and that no one is safe from the Ripper, Paul Burchill.
The final match was the WWE Championship match between Randy Orton and Rey Mysterio. Easily the best match of the contest as these two went all out to put on a show, Rey Mysterio managed to get Orton into position for the 619 on more than one occasion but Orton escaped, Rey also managed to escape the punt in this match by moving away at the last second. The finish to the match came when Orton went for the RKO but Rey pushed him away, Orton turned into a drop-toe-hold which sent him to the ropes, Rey signalled for it and ran off the ropes but… RECEIVED A HUGE SPEAR… FROM… BATISTA! The referee calls for the bell as the arena is in shock, Randy Orton has won by disqualification.
Rey is rolling around in pain on the mat from the spear, Orton is leaning against the ropes, the title resting on his body, Batista outstretches his hand to Orton to shake but Orton begins shaking his head and exits the ring before heading up the stage. "MacMillitant" hits and the crowd cheer loudly as Theodore Long comes onto the stage, he says that following the events of the Main Event, at Backlash it will be a Triple Threat Match for the WWE Championship between Randy Orton, Batista and Rey Mysterio! We go off air with Batista taunting the crowd and he is actually being booed, Orton looking confused and Rey still in pain from the spear. What does all of this mean?