http://comicbook.com/tv-shows/2017/0...mega-city-one/
IM Global and Rebellion have announced that development has begun on Judge Dredd: Mega City One, a new television series based on the popular 2000 AD character.
Judge Dredd: Mega City One is set in a future where the entire East Coast of the United States has become one crowded metropolis. The show will feature an ensemble of Judges - future cops who are endowed with the power of a traditional judge, jury, and executioner - as they attempt to curb crime in the 22nd century.
The announcement was acompanied by a poster for the series, which can be seen in the gallery below.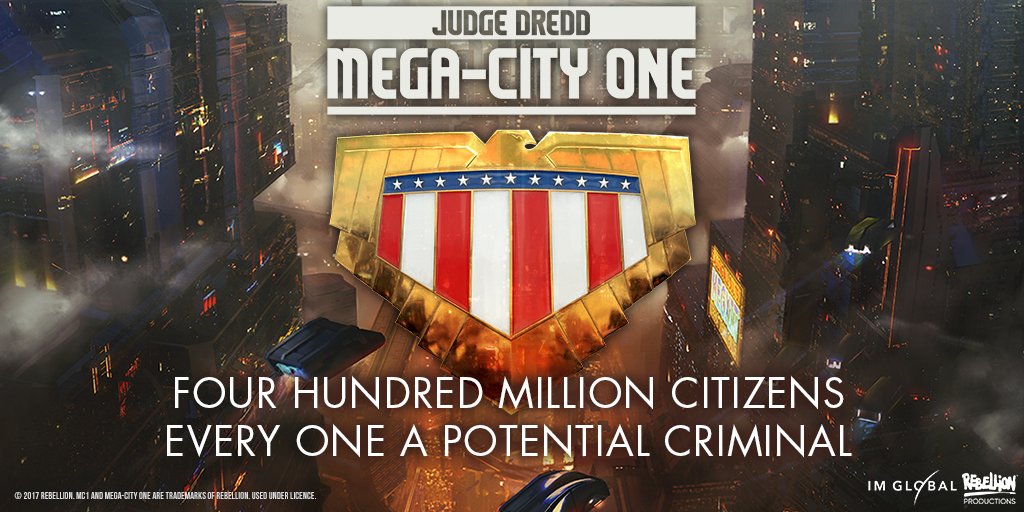 The title character Judge Dredd was created by writer John Wagner and artist Carlos Ezquerra in 1977 and has remained a fixture of the weekly 2000 AD comic book anthology magazine for 40 years. Dredd is known for being the most incorruptible and hardline of all the Judges.
Two live-action Judge Dredd movies have been made previously. Sylvester Stallone starred in 1995's Judge Dredd, which was a flop both critically and financially. Karl Urban played Judge Dredd in 2012's Dredd, which was not a major success at the box office, but gained a cult fan following thanks to its unflinchingly accurate portrayal of the comic book source material.
IM Global Television president Mark Stern will serve as executive producer on Judge Dredd: Mega City One. Stern developed Battlestar Galactica, Helix, and Defiance at Syfy. Stern will be joined as executive producer by IM Global Television CEO Stuart Ford Rebellion owners Jason and Chris Kingsley, who all executive produced 2012's Dredd.
"This is one of those seminal sci-fi properties that seems to only become and more relevant with age," said Stern in a statement. "Not only is it a rich world with biting social commentary, but it's also fun as hell! As a fan of the comics and both films, it's a dream come true to be able to work with Jason and Chris in adapting this for television."
"We're very excited to be beginning the journey to get more of Judge Dredd's Mega-City One on the television screen," said Jason and Chris Kingsley said. "Thanks to the legions of fans who have kept up pressure on social media, and a lot of background work and enthusiasm, we aim to make a big budget production that will satisfy both our vast comics audience and the even greater general screen-watching public."
No network or release window was announced for Judge Dredd: Mega City One.
Source: Entertainment Weekly
A lot of TV shows based off of comic book properties have been announced lately, not that I'm complaining mind you, cause as [MENTION=24]the spot[/MENTION] would say, it's a good time to be a nerd. i'll be honest, I've never seen the Sylvester Stallone movie, though I did think the one with Karl Urban in it was good for what it was.